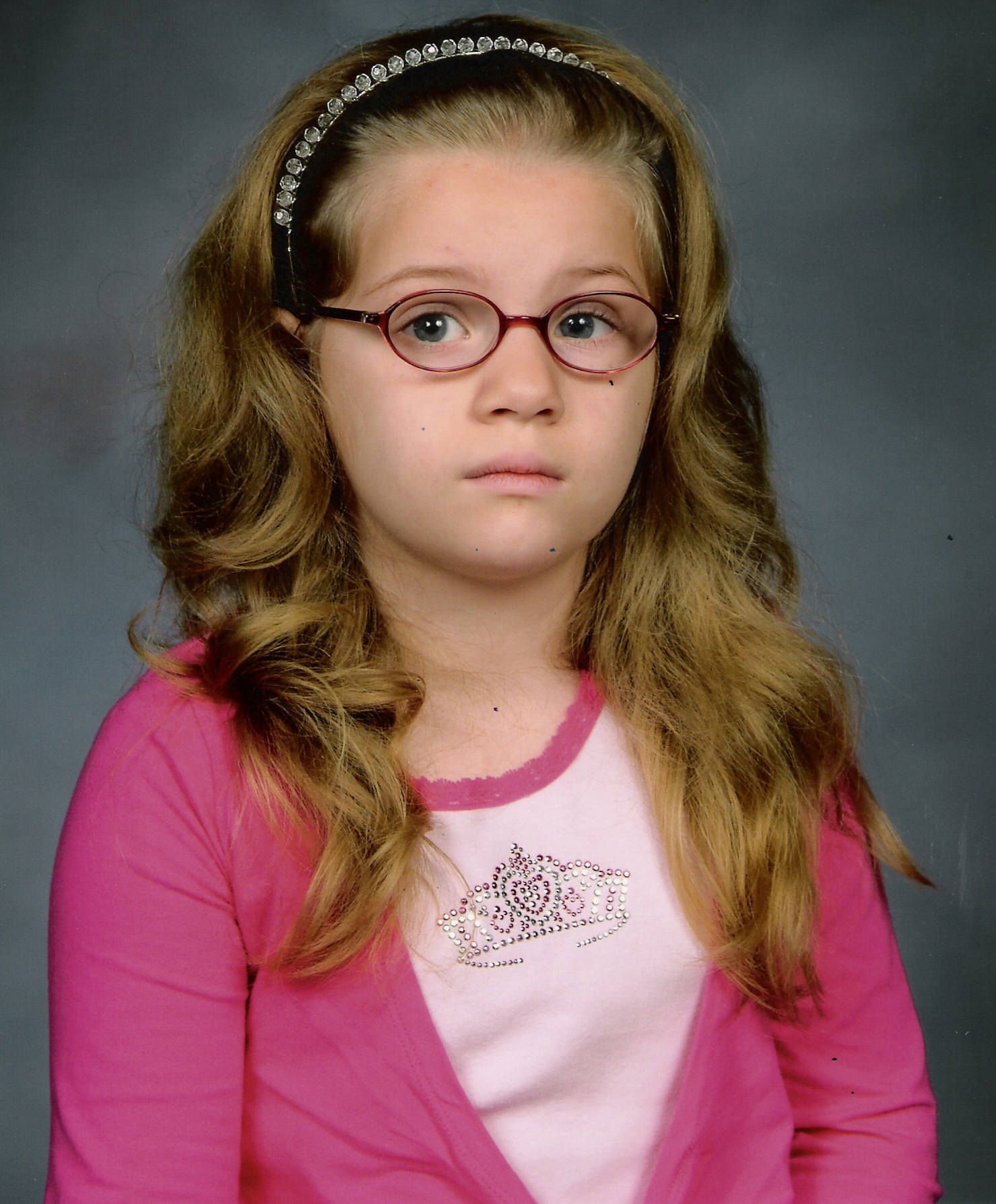 Scool Picture Oct. 2005
May 26,2004

I am so sorry it has been a while since I updated on Katie but believe me it has been very busy around here. Well here is our long, long update. Hope you don't get bored because this is an exciting update.

First I am very excited to tell you Katie has her new Princess bedroom! Yes it is gorgeous and she loves it. I was afraid she would not sleep in the big canopy bed because, it is very different than a toddler bed, but just like everything she amazed me and gave us no problems. She loves her new room she has named it her pretty room. When she comes home from school the first thing she says "I want Pretty Room" I think she just needs to make sure it is still here. Honestly it is unreal how beautiful it is, I wish you could all see it. I am very thankful to the Make a Wish foundation, Pied Piper Preschool, St. Clairsville High School, and all of the wonderful businesses that donated to Katies wish. You have made this a phenomenal experience for my little Angel and words cannot express that enough. Just Know you are very special people and have brightened a little girls world with hope, beauty, memories and friendships that she will always cherish.

Well May 8th made a year since Katie's surgery. I want to tell you I had so many emotions running through me as the day approached us, just remembering what my little girl was going through the seizures she experienced everyday trying to destroy her and how they were threatening to take all her hard work from her or maybe her life. Remembering how brave my angel was going through the many tests to determine if she was a candidate for surgery. Remembering the smiles we shared the morning of surgery and remembering her say in the soft voice as they carried her away"love you too " how she did not realize where she was going and that when she woke up her life would be different and her brain could now think, AND REMEMBERING how our hearts were breaking as we handed her over to the surgeon to try and save her precious life. Then on the one year anniversary I awoke with this amazing feeling of praise and joy and thanking God for all the wonderful progress that Katie has made. Then I just stared at her watching my amazing daughter with delight; as she has more determination than most people will ever have. Yes I shedded some tears on this day but, it was because I was so thankful to share this day with her, and remembering a year ago when I was so afraid she may not make it out of the operating room and if she did how would her life be. Well she has showed me "I am here and I am ready to show the world what I have and just because you have physical limits does not mean you dwell on things you may not be able to do, you just try, try until you can!' So you see she is extraordinary in every way. Yes I still have feeling of sadness that she had to give up so much physically, but she has gained way more than she had to give, she can now enjoy her life and think without that electrical storm trying to destroy her. I no longer have the feeling of did we do the right thing, I now know we did and do not second guess our decision because it was definitely the right one. The world is now at her hands and she's enjoying every minute, every second of everyday and living it to the fullest.

January 2005

Well again I am so sorry this update has taken me so long to do. Yes our lives are just a tiny bit hectic:) Well Katie is doing PHENOMENAL! She is just learning so much and has came so far she truely amazes me everyday. She is completely potty trained, talks in full complete sentences, makes all of her wants and needs known (Yes of course with a little attitude on the side:) hand on the hip, arms crossed what ever it takes).

Okay update Katie continues with all her therapies and is doing very well.She will be going on to Kindy next year so at this time that is my big concern with our school district in financial crisis&nbsp, Keep your fingers crossed for us. Well in other news she has her Neuro appointment coming up Next month! He will be shocked she will just amaze him!( I am sure of that) Maybe will get to wean down on some medicine would'nt that be GREAT! Well anyways we are doing good and just continue to take one day at a time. God bless and thanks for checking in on my Hero.

May 2005 Katie is doing very well. She is preparing for kindergarden next year (we are nervous of course) but she is very excited. She keeps saying I want to go to a big school now. BIG NEWS katie is being tapered off all meds Yes our appt. in Cleveland went well and the Doctor was very pleased with all Katies progress. He said it is now time to really see if surgery worked and try to take her off meds. I am so nervous I just Pray Pray that we do not see anything that would look like a BIG "S". She is on our prayer chain at church. I took Katie to a Mother,Daughter banquet for Mothers day I have a great picture and will try to post it soon. Until next update take care and live life to the fullest.
July 27, 2005:
I have spent my whole day at one doctor or another. First for me with a blood pressure of 158/115 of course my blood pressure medicine was doubled. But I am fine. The real prayers are for Katie she had an accident today at camp. She fell smacked her right ear very very hard on the gymnasium floor this happened 2 minutes before I walked into the school to take her for her kindergarten physical. Well I noticed when I was putting her in the van her ear was very swollen and reddish-purple. To put a long story short the doctor said it looks bad and she is afraid it will become a hematoma to watch it for the next 48 hours if it become worse she will need to see her again. If it does form a hematoma she will need to see a plastic surgeon to have it drain with a catheter or possible surgery.I will keep you all updated. She is just a busy body and things happen. On a brighter note she was able to spell her name by her self to her pediatrician today and tell her what town and state she lives in. She counted to ten also for her Wow! I am so amazed by her. The fact remains I know when she gets up tomorrow she will amaze me with something new. One final note if all goes well Katie will be off all meds August 17, keep your prayers coming they work.
July 28, 2005
I just returned from the doctors with Katie the prayers are working. The doctor said it appears it is just going to badly bruise and be very painful for a few days but at this point she sees no hematoma forming. That made my day, so maybe now my blood pressure might come down.
AUGUST 2005
Well it is now August the 20th Katie has been off meds since wednesday morning. We are praying we see nothing, I mean nothing at all that looks like a (S). Well I have to tell you Katie is going to the big school as she calls it. Her first day will be on the 29th she will be in regular classes with typical peers. She will still recieve OT,PT, and Speech at home and at school. I keep her very busy, I think the more therapy you give the better. She will only leave her class for special education classes for 45 minutes a day.She is also really excited her best friend is going to be in the same class. My baby going off to kindy garden. Oh I know I will cry, but we all parents have to do it. Please keep the prayers coming they work.
September 15,2005
Hard to believe today my baby girl is celebrating her 7th birthday. We are so blessed to have her with us and to celebrate each day of her life is amazing. She is a phenomenal little girl with the most amazing personality. She awoke this morning wanting to have a birthday party before school(how cute). Well she will have one when she gets home plus I took treats to school for her to share with all her new friends.
Other news Katie seems to be adjusting to school very well she loves it. She has the most awesome teacher and aide they are great with her and treat her just like the other children. Well I mentioned a few post back that Katie had to see an orthopedic surgeon well, we saw the surgeon and her Left ankle is really, really tight so she is limping around very well without a brace. She was very traumatized by the botox we used to put her though finally I said enough. So she is scheduled to have ankle,heel cord release on Oct. 3, the doctor said it is mostly done outpatient but with her past medical history he may keep her overnight. She will wear a walking cast for 6 weeks, then after taking the cast off she will either be fitted for a new brace or maybe if we all pray really hard she may not need a brace(just a small percentage chance she would not need one) but you know she never ceases to amaze us.The sugery will be at Children's Hospital. Take Care and live eachday to the fullest.
October 3,2005:
Katie is home Surgery lasted about an hour or a little more. She was very very scared. She had to be given a sedative before going back to the operating room. She was so nervous she would not talk to them. Once she woke up me and dad got the looks as if I could grab you I would . It took her about 20 minutes before she would talk to us. You see since the big surgery she is just afraid totally understandable. We got home at 4pm and of course she jumped right up on her feet which we had been carrying her everywhere and the pain she felt wasn't pretty. Well she is supposed to be off her feet for 48 hours I think she knows why now. I thank eveybody for the prayers they have said for my baby girl. Will update again soon.
October 6,2005:
Katie is doing a little better, but I know she will be out of school until next week. We tried to apply pressure yesterday to take a few steps, she was unable but tried very hard. She is a very strong little girl, and I am letting her tell me when she is ready to try. I will not pressure her because frankly, I don't know how her leg feels only she does. And she does tell me Mommy "I ready to try now"(and we try), Because she really cannot stand just sitting. So we have read lots of books, working on letters, numbers, and playing with the leap pad reader which she really loves. Changed her room around so we could move from room to room with different atmospheres. Today I will put her in the Boys room so I can change it around and she can work with her leap pad or watch television until I'm Done.Although she will be to worried about telling me where to put things
or "don't touch that Stephen will be mad."
Well to finish this update Katie's physical therapist came to work with her yesterday and is a little concerned about how Katie is extending her leg too the outer side maybe to ease the pain unsure but we definitely do not want her in that alignment so I am calling the Doctor in a little bit to see if he thinks we should order an Abductor wedge. Her occupational therapist will also be here today so I will have her keep an eye on that also. Well Katie is in some moderate pain this morning and since she just finished eating breakfast she can now have her medicine, will update again soon.
November:
Well the time is almost here to give the cast back to the doctor and see what the leg looks like. The cast comes off Nov. 8th, and that's not soon enough for Katie or me. She has done very well with it and honestly after the first week and a half, it has not slowed her down. School is going very well, I went to the Halloween party and to see how many friends she has is phenomenal the children are so very helpful, they see her no different except she may need extra help and believe me they argue over who will help. I saw this happen a couple times. Also the girls argue who will get to sit next to Katie very Cute. When she comes home she talks all evening about school and her friends. We are so happy that she is happy.